Seattle Department of Transportation (SDOT) recently completed the First Hill Streetcar line, a 2.5 mile, $135M project designed to support economic growth and strengthen connections between Capitol Hill, First Hill, and the Chinatown / International District. Waterleaf Architecture teamed with LTK Engineering to
design the 20,000 square foot
Operations and Maintenance Facility serving the needs of the new line. Efficiency, initial and long-term costs, safety, and energy efficiency were primary considerations informing the design of the facility.
The First Hill O&M Facility, which achieved LEED Gold certification, features a significant reduction in energy usage compared to similar facilities. Sustainable building features include a full vegetated green roof for stormwater collection, pervious paving to maximize stormwater infiltration and reduce heat island effect, a 6.3 KW photovoltaic array, radiant in-floor heating, energy efficient variable refrigerant flow (VRF) system, and passive ventilation.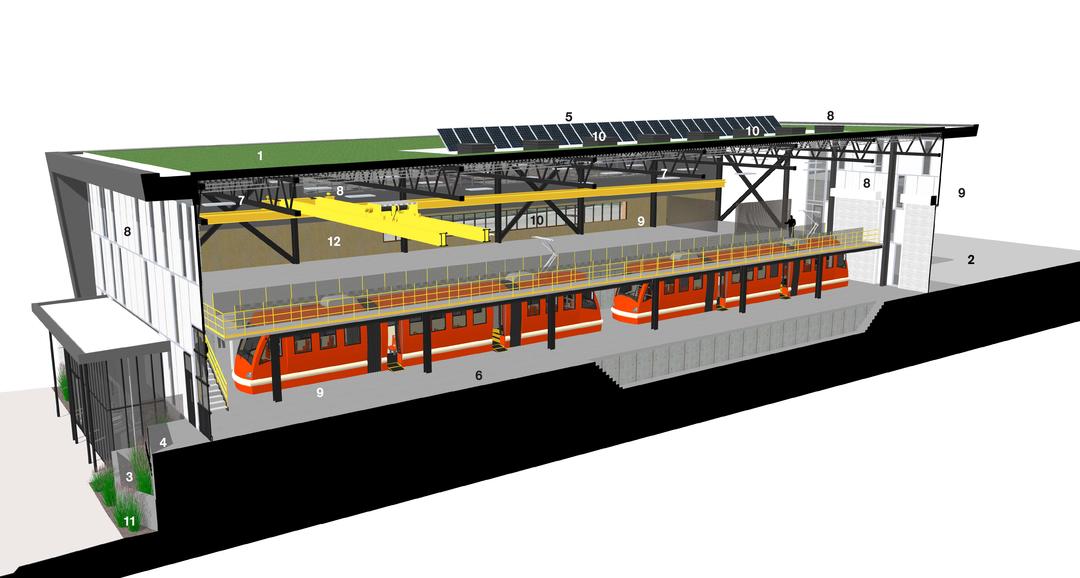 SUSTAINABLE FEATURES
1 Full vegetated (Green Roof) to maximize stormwater retention and mitigate heat island effect
2 Pervious concrete pavers to maximize stormwater infiltration and reduce heat sland effect
3 Bioretention area for roof stormwater collection
4 Outdoor patio
5 Renewable energy 6.3 KW photovoltaic array
6 Radiant in-floor heating
7 High efficiency LED and fluorescent interior and exterior lighting with lighting timers and occupancy / daylighting sensors.
8 Abundant daylighting (north clerestory, east & west translucent wall system and skylights)
9 Passive ventilation of the maintenance shop utilizing stack ventilation
10 Operable windows and skylights provide natural ventilation and cooling
11 No irrigation system installed – i.e. no potable water use for irrigation (because of native and adaptive species used)
12 Third party certified lumber (FSC – Forest Stewardship Council), ensuring responsible management of forests

ADDITIONAL SUSTAINABLE FEATURES (NOT SHOWN)
+ Electric car charging station
+ Bicycle storage and showers
+ Energy efficient Variable Refrigerant Flow (VRF) system
+ Energy recovery ventilator
+ High efficiency DHW heater
+ High efficiency hydronic heating boiler
+ Heat reclaim from electrical room
+ High recycled content, low VOC and regionally produced materials.
+ Efficient plumbing fixtures for more than 35% potable water use savings.